With the instant success of George Gershwin's Rhapsody in Blue in 1924, Paul Whiteman and his orchestra performed the piece an additional 83 times that year. The Victor Blue label decided to record the work and it ended up selling over one million copies. People across the nation heard it either in live performance, on the radio, or through recordings. Gershwin was even surprised to see that the sheet music was a hit! Print reviews continuously raved that this new work bridged the gap between serious and popular music.
With its great success, it's no wonder that we see melodies reminiscent of those in Rhapsody in Blue pop up in some of Gershwin's later songs. Some of these titles include "The Man I Love," "Fascinating Rhythm," "Bidin' My Time," and "Embraceable You."
Rhapsody in Blue
was not only a hit among classical music listeners, but it became somewhat of a popular American icon as well. One popular modern-day usage of Rhapsody themes can be found in United Airline advertisements. United bought the rights to Gershwin's work in 1987 for $300,000 per year.
Is Rhapsody in Blue your favorite of Gershwin's works? If not, what other piece do you prefer?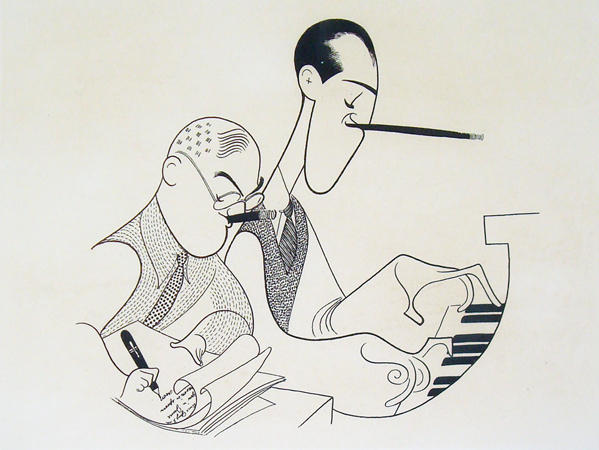 Al Hirschfeld Drawing of George and Ira Gershwin
Courtesy of pinterest .com